Evenementen bij Café Brakeboer
Café Brakeboer organiseert maandelijks evenementen. Deze evenementen kun je beschrijven als fantatische avonden met de beste muziekanten (en mensen) uit de buurt en ook uit landen zoals Engeland, Duitsland en zelfs Zuid-Afrika! Cafe Brakeboer heeft door haar lang opgebouwde reputatie nog steeds de kracht om unieke bands uit het buitenland te trekken die normaal voor gigantische concertzalen spelen.
Wat kun je verwachten wanneer je één van onze evenemten bezoekt?
Dansen
Drinken
Swingen
Ontmoeten
PAST BANDS
ZATERDAG 18 JANUARI
NIGHT OF THE STAMGUESTS!!
Wij knallen het nieuwe jaar in met de gigantische en nationaal bekende MELROSE!
Zorg dat je op tijd bent want VOL = VOL
aanvang 21:00
DE STAMGASTEN BETALEN EN BEPALEN DE MUZIEK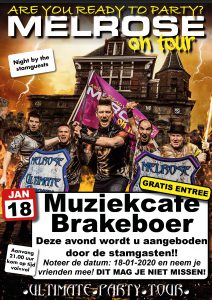 ZONDAG 9 FEBRUARI [BLUE STAR]
17:00
Entree € 12,50
The story of BLUESTAR
The members of bluestar all grew up on bakerstreet as children in time, at the school they were always asking this one question: What is space oddity? The pinball wizard responded and said it was easy living. This suprised them so much they smoked on the water during nights in white satin!
The next day [at the hotel california]
The members returned to fantasy as they were stealin' on a tuesday afternoon from the one and only Clemens or how some people call him: Jesus Christ super star. Clemens said: Give up your guns or the year of the cat will be upon us!
The message they want to give to their fans is that: The eye in the sky will make sure you will all be old and wise.